922 Falun Gong Practitioners Arrested in July 2019
According to information compiled by Minghui.org, 922 Falun Gong practitioners in China were arrested and 289 harassed for their faith in July 2019.
Among the targeted practitioners, 481 had their homes ransacked; at least 571 remain in detention at the time of writing.
The past July 20, 2019 marked the 20th anniversary of the Chinese communist regime's persecution of Falun Gong, a mind-body practice based on the principles of Truthfulness-Compassion-Forbearance.
Soon after its public introduction in May 1992, an estimated 100 million Chinese citizens took up the practice in seven years. The unexpected popularity and its advocacy of ancient virtues that the regime had spent much effort to replace with communist ideology, eventually triggered the unprecedented suppression that continues up to today.
Each year around the anniversary of the persecution, dubbed one of the "sensitive dates" by the regime, authorities often ramp up arrests and harassment of Falun Gong practitioners in their attempt to silence the practitioners from speaking out for their persecuted faith.
According to available information, the targeted practitioners this July come from 27 provinces and centrally-controlled municipalities. Twenty one of the regions reported double-digit arrests, with Hebei Province seeing the most practitioners arrested (181), followed by 133 arrested in Sichuan Province and 89 in Shandong Province.
Many of the arrests were well-orchestrated and in groups this July, with cases being reported in at least one third of the provinces.
In particular, 123 of the targeted practitioners in the past month are 65 or older, the eldest being 90 years old and 5 between 85 and 88. Among these seniors, 105 of them were arrested and 18 harassed.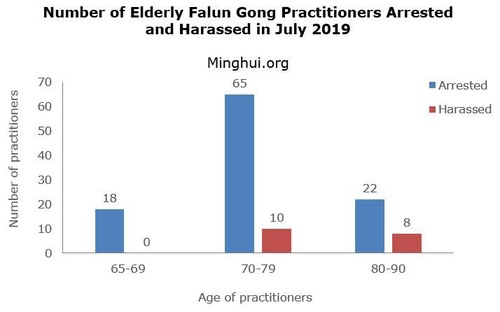 Mr. Wu Xianguo, 90, and his wife, Ms. Luo Mianjin, 80, of Mianyang City, Sichuan Province, were harassed on July 20, 2019, shortly after they moved to a new rental apartment. The police ransacked their home and demanded that they open each of their cabinets to see if there was any Falun Gong-related materials.
Of note is the fact that with strict information censorship in China, persecution cases cannot always be reported in a timely manner, nor is all the information readily available.
Below are snapshots of some arrests and harassment cases.
Group arrests
Jiamusi City, Heilongjiang Province: 15 Falun Gong Practitioners Arrested in Three Days
Fifteen residents of Jiamusi City, Heilongjiang Province, including an 86-year-old man, were arrested in three days in July 2019. It was reported that the arrests were orchestrated by the Public Security Bureau in Heilongjiang Province. Some local police stations in Jiamusi were given quotas. The police monitored the practitioners' phone calls, their daily activities through surveillance cameras, and physically followed them before carrying out the arrests.
Ms. Feng Guifen and Ms. Che Hongyu were arrested at Ms. Feng's home on the afternoon of July 25.
Ms. Fan Guiqin was arrested at her home in front of her bedridden husband on the morning of July 26. In the afternoon, the police arrested and interrogated Ms. Fan's son and daughter, Mr. Wen Cai and Ms. Wen Hua, neither of whom practice Falun Gong.
Ms. Yang Minjiang, Mr. Che Weiqi, 86; a male practitioner surnamed Duan; a female practitioner surnamed Shi; and another male practitioner whose name remains to be investigated were also arrested on July 26, 2019.
Mr. Zhang Guohai; Ms. Duan Yifa; a female practitioner surnamed Li, in her 60s; and a female practitioner surnamed Dong and her mother, sister, and brother-in-law were arrested on July 27.
Jilin City, Jilin Province: At Least 24 Falun Gong Practitioners and Two Spouses Arrested in One Day
At least 24 Falun Gong practitioners in Jilin City, Jilin Province, and two of their spouses who don't practice Falun Gong were arrested on July 19, 2019. The arrests started as early as 2:00 a.m. on July 19.
Half of the arrested practitioners had their homes ransacked and their Falun Gong materials and computers confiscated.
Sixty-four Falun Gong Practitioners Arrested in Two Weeks in Sichuan Province
Sixty-four Falun Gong practitioners in seven cities in Sichuan Province were arrested between July 5 and 18, 2019 for not renouncing their faith. All of the arrests in each city took place in one day, the arrests were likely to have been orchestrated and coordinated by the entire Sichuan Province police force.
Among the 64 arrests, 37 were in Chengdu City on July 10, 11 in Liangshan Yi Autonomous Prefecture on July 14, six in Nanchong City on July 5, six in Suining City on July 18, two in Meishan City, one in Panzhihua City on July 6 and one in Mianyang City on July 11.
In addition, several practitioners in Dazhou City have been harassed by the police since July 18.
Tangshan City, Hebei Province: Nine Falun Gong Practitioners Arrested in One Day
Nine Falun Gong practitioners in Tangshan City, Hebei Province were arrested on the morning of July 3, 2019, for their faith.
The targeted practitioners were Mr. Yang Xiaoming, Mr. Tian Shisheng, Ms. Tian Shulan, Mr. Shi Weidong, his wife Ms. Lu Cuijun and sister Ms. Shi Yanli, Ms. Liu Xiuhua, Ms. Liu Xiaofang, and a male practitioner whose name is being investigated.
In addition to the nine practitioners, Mr. Peng Shucai was arrested two days later on July 5. This is Mr. Peng's third arrest for his faith.
Three of the arrested practitioners' homes were ransacked.
Longkou City, Shandong Province: Eight Falun Gong Practitioners Arrested and Five Harassed for Their Faith
Eight residents of Longkou City, Shandong Province, including one 81-year-old, were arrested over the course of two days in July 2019 for refusing to give up their faith in Falun Gong. Another five Falun Gong practitioners were harassed.
Directed by the Longkou City Domestic Security Division, multiple local police stations sent agents to arrest and harass the 13 practitioners after monitoring their cellphones for some time.
Mr. Yao Xinren, Ms. Yuan Yuqin, Ms. Xiu Yongjie and a practitioner surnamed Fu were arrested on July 3.
Ms. Chen Guihua, Ms. Chen Guizhi, Ms. Song Yuqiu and Ms. Xu Guiqing, 81,were arrested on July 4.
More Than 20 Chongqing Residents Arrested While Studying Falun Gong Books Together
More than 20 residents of Chongqing, including an 82-year-old woman, were arrested on July 23, 2019 while studying the teachings of Falun Gong together at Ms. Wen Tingyu's home. It has been confirmed that the arrested practitioners include Ms. Wen Tingyu; Ms. Zhang Yougao, 82; Ms. Zhang Lan; Ms. Yuan Rong; Ms. Zhou Dulun; Ms. Guo Zhongbi and Ms. Zhang Hongrong.
More than 70 officers were involved in the arrests. They took the practitioners to their respective neighborhood police stations and interrogated them. They also ransacked the practitioners' homes and confiscated their Falun Gong books and related materials.
In addition, another woman, Ms. Yu Yeying, was arrested at her own home on the same day.
Six Senior Residents of Shanghai Arrested While Reading Falun Dafa Teachings
Six senior residents of Shanghai were arrested on July 15, 2019 while reading Zhuan Falun, the main text of Falun Gong, together.
The arrested practitioners were Ms. Xie Sinan, 83, Ms. Li Caifeng (or Li Cuifeng), 75, Ms. Guo Sujiao, 75, and Ms. Sun Wenjuan, 72, Ms. Zhang Meizhen, 72, and Ms. Jin Shumin, 56. The arrests happened at Ms. Jin's home.
All the practitioners were interrogated one by one at the police station in the evening.
According to the police, they have been monitoring the practitioners for a long time before arresting them.
Eight Guangzhou Residents, Including Six in Their 70s and 80s, Arrested for Their Faith in Two Days
Eight residents of Guangzhou City, Guangdong Province, mostly seniors, were arrested on July 9-10, 2019. The police accused the practitioners of using their phones as hotspots to spread information about the persecution.
Six practitioners were arrested on July 9, including Mr. Ma Minqing; his mother Ms. Wang Xuezhen, 79; Ms. Zhang Hui, in her 60s; Ms. Lin Zuoying, 80, and two other practitioners who are in their 80s.
Two more practitioners, Ms. Liang Huichan and Mr. Zeng Jiageng, both 77, were arrested on July 10.
All of the practitioners are currently detained in the Guangzhou City First Detention Center.
When Mr. Zeng Jiageng's attorney visited him in the detention center on July 15, he told his attorney that he never used his phone as a hotspot. Upon hearing this, the guards rushed the lawyer away before the allotted meeting time ended.
Mr. Zeng's latest arrest came while his son, Mr. Zeng Hao, a college professor, is serving a 3.5-year term for posting information about Falun Gong on social media. The younger Mr. Zeng's appeal against his verdict was struck down by the Guangzhou Intermediate Court in June 2019.
More Arrests
Wife, Nearly 80, Arrested for Her Faith, Bedridden Husband Struggles to Find Caregiver
Ms. Fan Guiqin, nearly 80 years old, was among the 15 Falun Gong practitioners arrested in Jiamusi City, Heilongjiang Province, between July 25 and 27, 2019. She was taken away in front of her bedridden husband on the morning of July 26.
The police also ransacked her home and confiscated all of her Falun Gong books, a photo of the practice's founder, and related materials.
In the afternoon, the police arrested and interrogated Ms. Fan's son and daughter, Mr. Wen Cai and Ms. Wen Hua, neither of whom practice Falun Gong. The police threatened to arrest Ms. Fan's younger sister, Ms. Fan Guifen, who is now forced to live away from home to hide from the police.
Ms. Fan's husband Mr. Wen Defang, a veteran of the Korean War, suffered a stroke and has been bedridden and incontinent for 15 years, during which time he has relied on his wife to help him with his basic needs. Her arrest has left him struggling to find a caregiver.
College Freshman Detained in Shanghai for Practicing Falun Gong
Mr. Zhong Yiming, 19, has been detained in Shanghai since early July 2019 for spreading information about Falun Gong. However, the authorities refuse to disclose his whereabouts to his parents.
Mr. Zhang, a native of Dalian City, Liaoning Province, is a freshman at Shanghai Jiao Tong University.
The university notified his parents and they flew to Shanghai on July 3. They were only told that their son was under investigation for practicing Falun Gong since the school's surveillance camera caught him distributing Falun Gong materials on campus.
The university reported him to Shanghai police and the police sent him to a detention center in Shanghai on July 5 because he refused to renounce his belief. His parents tried to find out where he was detained, to no avail.
The Shanghai authorities have received many phone calls from around the world calling for Mr. Zhong's release. They now blame him for having connections with "Western forces."
It was also reported that the Shanghai police had flown to Dalian City on July 22 in an attempt to arrest his grandmother, who is in her 80s and also a Falun Gong practitioner.
Police Break Woman's Back and Keep Her Detained for 15 Days Without Rendering Medical Care
Ms. Yao Weimin, a 62-year-old resident of Suzhou City, Jiangsu Province, was arrested on July 3, 2019 for her faith in Falun Gong. She was taken to the police station and locked in a metal cage.
Eight officers came and attempted to get her hand prints. She resisted as they held her hands down. One female officer kneed Ms. Yao in the lower back, causing her to immediately collapse to the ground. They took her hand prints and foot prints.
She was next left in the metal cage without being given any food or water for a day. She was unable to stand and also felt extremely uncomfortable sitting down. At her request, a female officer bought some bread with Ms. Yao's money on the next day.
By the time of the evening of July 4, when the police transferred her to Lumu Detention Center, she was unable to move because of her back injury. She was in extreme pain when she coughed. Five days later her blood pressure surged to 200 mmHg.
When she was released after 15 days of detention, she was emaciated and disfigured. Her family took her to a hospital, and she was diagnosed with a L1 spinal compression fracture.
Four Heilongjiang Residents Arrested for Their Faith, A Fifth Forced to Live Away from Home
Five residents of Zhaodong City, Heilongjiang Province were reported to the authorities for talking to people about Falun Gong on July 16, 2019. The police came and arrested four practitioners – Ms. Li Yali, Ms. Zhang Guorong and her mother, and Mr. Yang Xuewen. The fifth practitioner, Ms. Yan Zhiqiu had a seizure on the spot and the police did not take her away.
When the police went to Ms. Yan's home on the afternoon of the next day, she had already left home to avoid being arrested. The police later returned several times to harass her family.
All four detained practitioners were sent to detention centers and their homes were ransacked.
Wife Persecuted to Death, Hebei Man Arrested
Mr. Liu Guoping and another Falun Gong practitioner Wang Hong, both residents of Cangzhou City, Hebei Province, were reported to authorities when they were distributing materials about the persecution of Falun Gong on July 7, 2019. Both practitioners were arrested and are being detained in a local detention center.
When their families went to the police station to request for their release, the police told them that they had to keep them in custody in order to fulfill their quota and both practitioners would be released after their maximum detention time of 15 days.
Mr. Liu is not the only one in his family that has been targeted for their faith in Falun Gong. His wife, Ms. Wu Baoling, had died as a result of persecution years ago. She credited Falun Gong for returning her to health, but she was frequently harassed by her workplace and police for refusing to renounce her faith after the persecution began.
Her health collapsed after she was detained for 15 days [exact month and year of detention remain to be investigated], but police kept harassing her at home. She was unable to bear the pressure and passed away two months after her release.
Two Jiangxi Women Arrested
Over 20 police officer broken into Ms. Chen Baozhi's home in Nanchang City, Jiangxi Province on July 18, 2019. They arrested her and another practitioner visiting her home, Ms. Jiang Lanying because of their faith in Falun Gong. The police confiscated 280 thousands of cash and other personal belongings.
It was reported that the police had monitored Ms. Chen with surveillance cameras for more than two weeks. They were familiar with her home and surrounding environment. They came prepared with her home key and broke in after opening the door themselves.
Shannxi Man Severely Beaten Before Arrest
Seven police officers broke into Mr. Yang Xin's home in a village of Baoji City, Shannxi Province on July 15, 2019 when he was in the front yard washing clothes. They dragged him inside and began to beat him.
Her mother, nearly 80's, heard her son's screaming at the backyard and went in to stop them. But police pushed her to another room and locked her inside.
They brought Mr. Yang out handcuffed and shackled over an hour later and tried to take him away. When Mr. Yang refused to get into the police car and resisted, the police severely beat him up again in front of bystanders.
After Mr. Yang was taken away, another group of police came and ransacked his home.
Cases of Harassment
74-Year-Old Shanghai Woman Put Under Around-the-clock Surveillance for the Fourth Time in Nine Months
Ms. Li Meizhen found herself under 24-hour surveillance again on July 16, 2019, because she practices Falun Gong. This is the fourth time that the 74-year-old woman has been closely monitored by the police since she moved to the Songjiang District in Shanghai last year.
Ms. Li said Dongjing Police Station officers have been targeting her around sensitive dates and during major events. The officers park their cars outside her apartment building and take turns monitoring her. They also follow her wherever she goes, completely restricting her personal freedom. The surveillance lasted from 16 to 23 days each time.
Senior Couple in Sichuan Harassed and Their Home Ransacked
Ms. Luo Mianjin, in her 80's, and her husband, Mr. Wu Xianguo, 90, just moved to their rental home a month ago. However, police raided their old residence on July 20, 2019 when no one was there.
The witness recounted that over 20 police officers came and tried to pry the door open but failed. A lock smith was called over later and opened the door. But they did not find anything. They failed to open the door to the bedroom and left.
Five police officers came to their new home on the evening of the same day. The couple was ordered to open their cabinet doors and drawers but the police found nothing.
They brought the couple back to their old home afterward and searched thoroughly but to no avail. They took their pictures and sent them back to their new home.
Hunan Woman, 88, Harassed
Ms. Zhang Shengying, 88-year-old resident of Huaihua City, Hunan Province came to the Chengzhong Police Station to deliver the Falun Gong materials to a head officer.
Since the head officer was not there, Ms. Zhang decided to sit on a bench to rest a bit before leaving because of the hot weather. However, two police officers carried Ms. Zhang with the bench and threw her outside. One officer pushed her to the ground.
On the next day, Ms. Zhang came back with another practitioner Ms. Lei Huamei and wanted to tell the police more about Falun Gong. The police threatened to ransack Ms. Lei's home.
Three police officers came to Ms. Zhang's home on July 25 and harassed her.
Shandong Woman in her 80's Harassed
Ms. Wang Guiyun, 81, lives by herself in Gaomi City, Shandong Province. Five police officers led by Zheng Dengsheng, a member of the local residential committee broke into her home on July 23, 2019.
All of the police officers were in plain clothes without showing their identifications or search warrant. They confiscated her Falun Gong books and some other Falun Gong related belongings.
Gansu Man's Home Ransacked While Under Detention
Mr. Han Xun, 53, was arrested on May 29, 2019 for his faith in Falun Gong. His arrest was approved on June 26 and he is being detained in the detention center.
The police took Mr. Han to his home on July 31. They forcibly opened the door and searched his home for over an hour. None of Mr. Han's other family members was notified about the home search.
Mr. Han, a successful businessman, has suffered brutal persecution during the past years, including ten years of imprisonment.